Description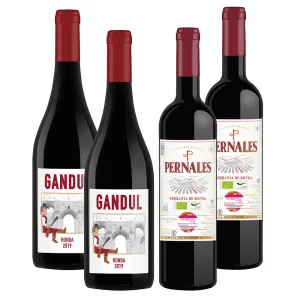 Taste of Ronda Pack contains:
2 bottles of Gandul Ronda 75cl
2 bottles of Pernales Ronda Ecológico 75cl
Price of Taste of Ronda Pack is 49 €
Shipping included for mainland Spain.
GANDUL RONDA
ABV: 13.5%
Harvest 2019
Red. sugar 3 g/l approx.
GRAPE VARIETY
Tempranillo, Cabernet Sauvignon, Petit Verdot and Syrah
PRODUTION AREA
Serranía de Ronda.
TYPE OF WINE
Red wine. D.O. "Sierras de Málaga".
ELABORATION PROCESS
Alcoholic fermentation with a maximum temperature of 22º C, with diary wine recirculation until obtain the color and tanicity wanted. After decubated and the end of fermentation, the malolactic fementation is care maintaining constant the temperature and making daily checks.
TASTING NOTES
Purple red color with intense and bright violet trim. On nose, it has a wide range of red and black fruit aromas, like raspberry and gooseberry in first impression and cherry touches, releasing vegetable aromas in the backgorund when oxygenated, ending with a slight aroma of mineral reminder. On the palate it presents gentle and greedy, with fresh and balance acidity, medium-bodied. And leaving a nice sensation to woods fruits that enhanced the primary aromas.
SERVING TEMPERATURE
12º – 14º C.
PERNALES RONDA ECOLÓGICO
ABV: 14.5%
Red. sugar <2 g/l
Harvest 2017
GRAPE VARIETY
Merlot and Syrah.
PRODUTION AREA
Serranía de Ronda.
TYPE OF WINE
Ecological red wine D.O. "Sierras de Málaga".
ELABORATION PROCESS
Merlot and Syrah grapes were harvested by hand and placed in 15 kg boxes. The grapes are harvested in a vineyard which is at 700 m above sea level, and with a 15% slope. Cherry color with garnet trims. Medium- high layer. With a subsequent aging of 12 months.
TASTING NOTES
Cherry color with garnet trims. Medium-high layer. Very expressive on the nose. Predominating red fruits and floral notes, with soft spices and toasted. On the palate it is gentle, fresh, and with good tannins. Having aftertaste notes also of red fruits, spicy and toasted.
SERVING TEMPERATURE
16º – 18º C.
ALLERGENS
Contains Sulfites